Hello Melanie, great to have you here! Can you tell the readers a little bit about yourself? Where could we know you from?
My name is Melanie de Miguel and I am the person behind Beadschool in the UK and the inventor of Hubble Stitch. People can also find me on Youtube, where I share several videos of beading technique and all kinds of tips and tricks.
My mother is English and my father was Spanish, hence my surname. I was born in Erith, Kent, and I grew up living with my Mother and Grandparents in Welling. My Grandmother was extremely creative, a very skilful dressmaker and watercolour artist. She taught me so many crafts – knitting, crochet, sewing, embroidery etc. and definitely instilled the impetus and desire to create.
Gran used to get her housework done in the morning and then, in the afternoon, she would set out two sewing machines, her own and her mother's, side by side. She would give me scraps of materials and, whilst she made clothes for the family on her Bernina, I would sit next to her and make clothes for my dolls on Great Grandma's machine.
It had a wonderful bone, cranking handle, mother of pearl inlay on the body of the machine and a pretty tape measure in the marquetry of the wooden base. There was even a treadle if you didn't want to crank the handle, but my legs weren't long enough to reach it!
I think I find enormous peace and comfort when I'm making or creating, and am probably transported back to those times when we sat together. Maybe as a consequence, I can never sit and do absolutely nothing; I always have to be doing something with my hands. I get comments like "Why don't you just relax?" but that is my way of relaxing, and actually find it stressful not doing something.

THe Maselli Carcanet and the Ice Pincess – The Four Ladies
What a great start you had. Very special to read how your family, especially your grandmother, was so helpful and gave you such a great start. But in what you tell us, there are no beads yet. When did you come across these little gems?
The summer of my 10th birthday, I was on holiday with my mother in the Greek island of Mykonos, and an islander showed me how to weave with beads on a loom her husband had made for her from driftwood, and a warp of embroidery threads. I became completely engrossed in beadweaving during that holiday and my mother promised to buy me a loom when we got home – true to her word, I got one that Christmas.
I began to extend my beading skills in my teens; I taught myself the various beading stitches by following thread paths and mending damaged, antique beaded collars, bags and jewellery I had bought in antique fairs and fleamarkets. The trouble was I had no idea what the stitches were called.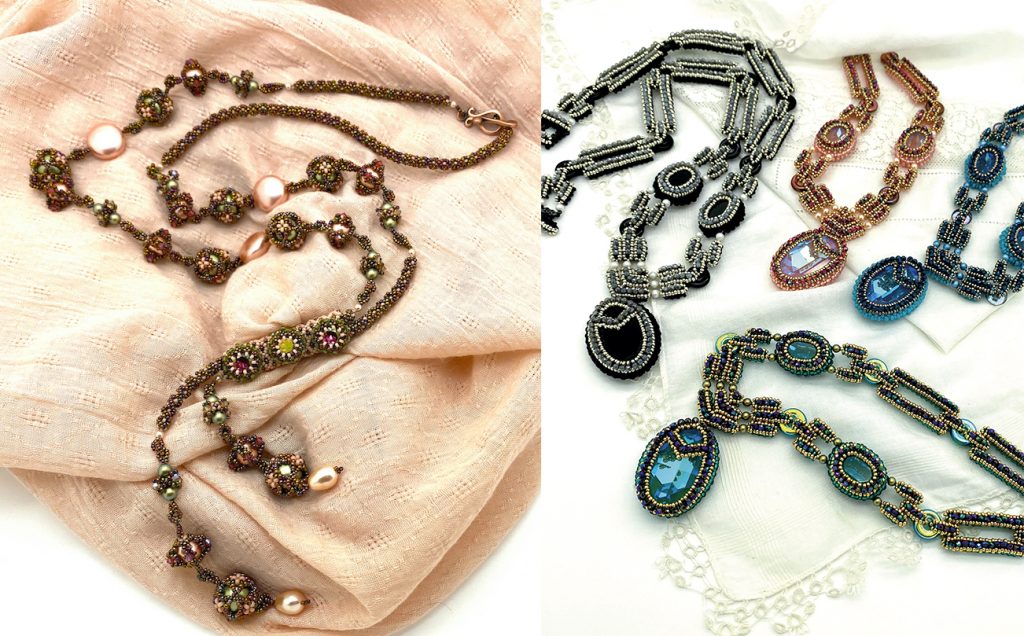 The Kuiper's Dream and Renee Colourways
That's a very good example of learning to bead by practice. How did it develop from there?
Beadwork and crafts took a back seat whilst I studied Biochemistry and Pharmacology, going on to work for a pharmaceutical company. Then, in 1983, I met Steve, our lives became entwined and we started a family. Once the children were a little older I took a teaching degree so that I could spend holiday times with them, and I began teaching Science at a local Secondary school.
However, I was always so busy with all my teaching duties that I found myself more and more detached from the family, and I never had any 'me' time to even pick up a needle and thread. So I quit which was actually a huge relief to me and to my family! I love having a big family, as I was an only child, and always resolved to have a busy, bustly household – which it always is – like Piccadilly Circus! Steve and I have a son and two daughters, the youngest of whom now lives with us, along with her partner and their two children; we are based in Watford, Hertfordshire, which is North West London.
I joined the Beadworkers Guild in 1999 at the very first Great British Bead Show. There I took a class in freeform Brick Stitch and was really surprised when I realised I knew the stitch. The next day I took a class in freeform peyote, and realised I was familiar with that stitch too! At some point people at the show saw pieces I had made and asked me to teach at the next show, and so it began.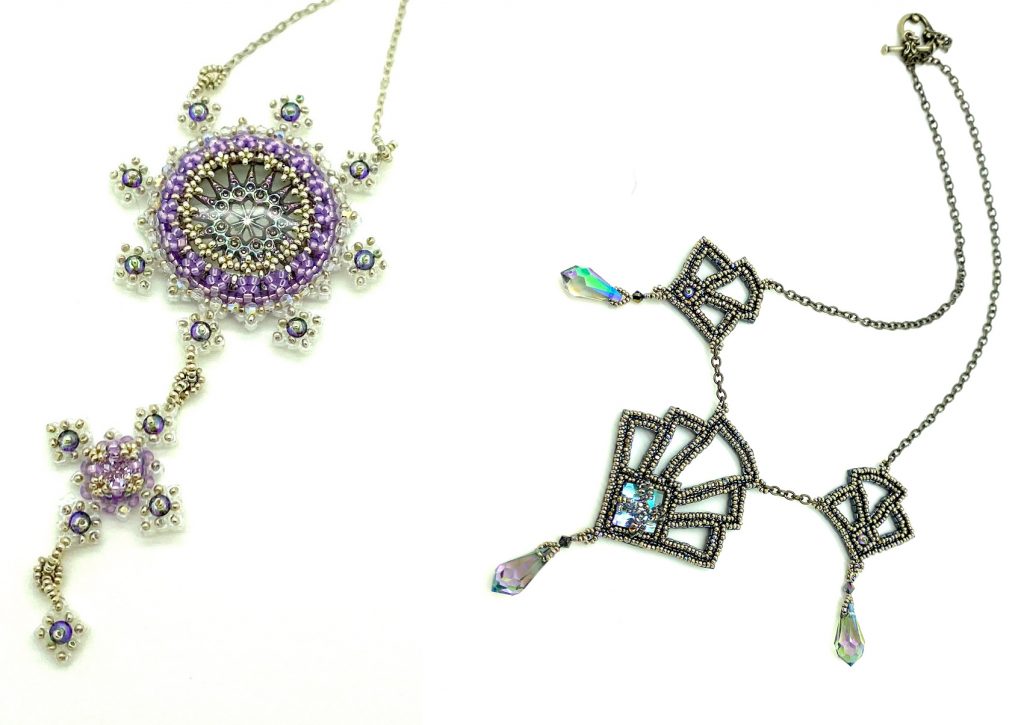 That must have been a big surprise, to realise that you already knew so much, but didn't know the names. But when you were asked to teach them at the same time, must have been great. Was it easy to take these first steps in the beading world this way?
I was really excited and absolutely fired up for action, but rather scared that I would never be able to remember the names of all those beading stitches! My designing ability really took off, and I began traveling all around the country teaching for bead groups and the Beadworkers Guild. Next I started teaching at the Bead and Button Show in Milwaukee which was a dream come true, and from there I taught at various bead shops across America, and then moved on to Europe. Along the way I made so many wonderful friends and acquaintances and feel very privileged to have met all those interesting, fun people.
Steve and I run a family roofing business together, and have done since before the children came along – I do all the administration, paperwork, bookkeeping and accounting (somehow I also fitted in the teaching degree and the teaching too). The business admin is always my priority, but I do try to fit in my designing and beading, although it's not always easy, particularly in rainy seasons when everyone's roof is leaking!
It always makes me laugh when I'm teaching and students ask if beadwork is my job. I wish it were – that would be bliss. I would love to spend time designing and beading, but the truth is that I mainly bead at night, when all is quiet, or on long journeys or on holiday (consequently I don't get much sleep and am always being accused of burning the midnight oil).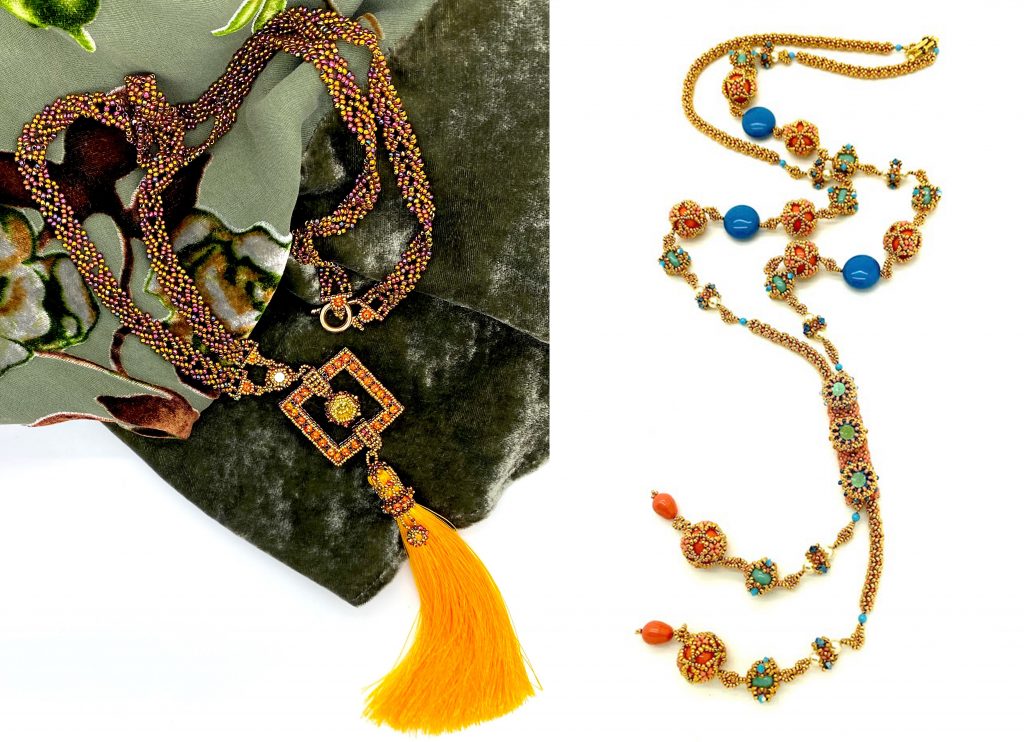 It really turned into a successfull business this way. It started with sewing with your grandmother and some years later you are travelling worldwide with your knowledge. How do you approach beading and designing nowadays, and what is most important for you?
I mix beading techniques a lot in my work. I feel the best way I can describe what I do is engineering with the beads – to me, there is something deeply mathematical, as well as beautiful, about the way beads take up their positions in relation to one another, depending on what stitch I'm using. I love working an intricate piece, and the tinier the beads, the better. Miyuki seed beads (mostly size 15º) and 1.8mm cubes are my beads of choice, as they come in such a wide range of colours and finishes, and are consistently of high quality.
I also combine them with Czech Charlotte size 15º beads to get that fine detail when bezeling. I am also obsessed with crystal cabochons, particularly flat-backed ones, and relish the process of beading around them using as little beadwork as possible, so as not to overwhelm them. I've taken great delight in developing minimal beadwork around crystals, and actually being able to see the edges once they're beaded.
My fascination for thread paths and love of delicate bezeling led me to create my own beadwork stitch, Hubble stitch, about which I have now written two books. I use Hubble stitch in almost every design, because of its versatility and delicate touch. I literally experienced shock the first time I saw the stitches I had produced and couldn't quite believe it.
What followed was feverish beading of samples, working my way right through from basic Hubble stitch to 2-drop, 3-drop, circular, tubular, varying bead sizes etc., in fact every subtechnique that I would normally apply to any other stitch. After a few hours I hit upon Wave Hubble and, because it is so beautiful and forms such a wonderful textile, I really wanted to shout about it! In all honesty, I wrote my first book, Let's Hubble, in order to be able to write the 2nd book, Hubble Stitch 2, which covers Wave Hubble. I would definitely class Hubble stitch as one of my greatest beading achievements and never cease to be thrilled when students show me their creations and tell me how much they love working in Hubble stitch.
Congratulations, you are definitely unique in being one of the few to invent a new stitch. Of course you wanted to shout about that. And you also teach this technique, don't you?
Yes, I am passionate about teaching my beadwork and take great delight in being in a room full of beaders, seeing them working on one of my designs, sometimes putting their spin on colour choices, modifying and adapting the ideas. Almost all of my designs now are worked in Hubble stitch, because I love its versatility and delicate nature. In my workshops, students get a really good grounding in all the Hubble sub-techniques.
I love the dynamics that happen in a workshop, not just the learning, but the sharing, the inspiration and the warm camaraderie. So I cannot wait for us all to be able to gather together again in person, for that special workshop feeling. It must also be said though, that for me, Zoom has been a phenomenal teaching tool; it has broken so many boundaries, bringing together students from all different countries, who have never been to one of my classes before because of the cost of traveling. For that I am grateful, and so happy that I've been able to stay in touch with old friends and continue to make new ones!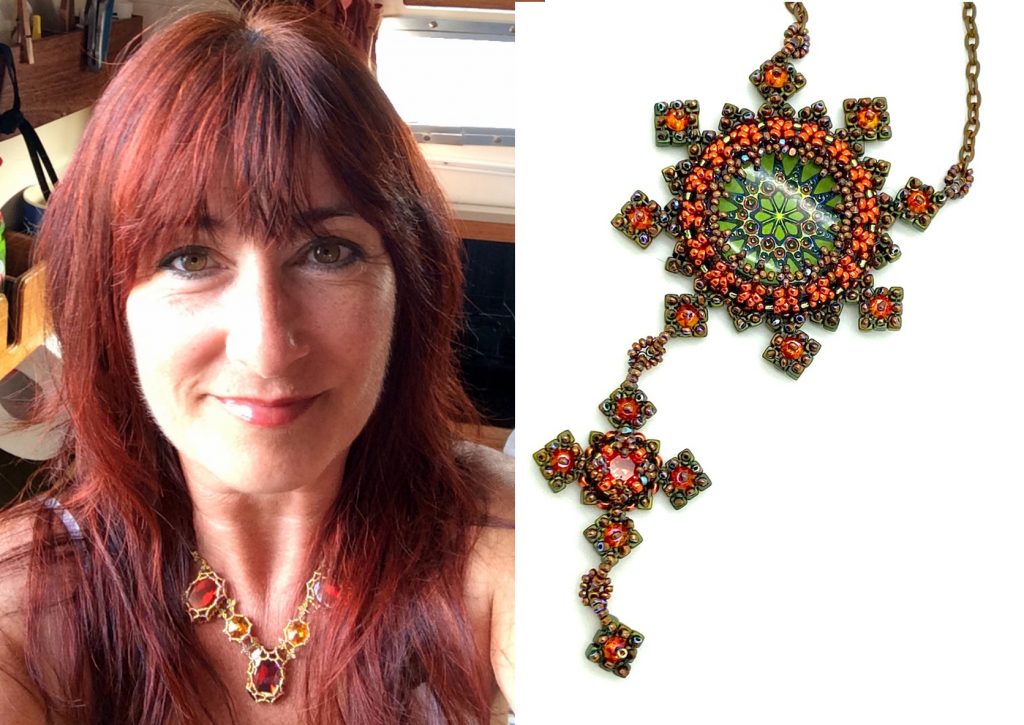 One of the most important things of beading, is indeed the opportunity to share it with others. And reading about your workshops you must be blessed to gained a lot of friends here. Do you also have a big example or someone you feel extra close connected to?
One of the loveliest things to happen in my beading life has been to collaborate with my dear, beady friend Heather Kingsley-Heath. Both of us are greatly inspired by designs from many historical eras, both fascinated with history and both very much elemental beadworkers, at which point we realized we had so much in common, so together we wrote Tudor Inspirations.
Spurred on by our students often wanting to design their own beadwork but not always having the confidence to do so, our book brings a collection of ten big, elemental designs, inspired by Tudor and Elizabethan styles, plus something extra – a library of the elements we created, together with the lists of requirements for each one. Beaders can use the library to put together their very own unique, individual pieces. It is heart-warming to see the many new, fabulous creations by beaders using our book.
As we had so much fun working together, Heather and I decided to run beading retreats twice a year. We each design a special piece in our chosen era style. The first year we worked in Tudor style, but since then we have moved on to the incredible, wide-ranging Art Deco era. Although the pandemic prevented us from holding three of our retreats, we are already getting booked up for March 2022 and very much looking forward to it!
I still occasionally lie awake designing in my head at night if I can't sleep, and never find enough hours in the day to see those designs to fruition, but I intend to continue beading and designing as long as possible, or until I can no longer hold a needle!
Thank you very much, Melanie, for sharing so much of your life of beads! It was wonderful speaking with you, as you are a very inspiring person! We wish you all the best in your upcoming explorations and a lot of joy in your future meetings!