Hello Floor! Can you give us a little introduction about yourself? Who are you, where are you from, what is your history?
When I started picking up pebbles from a beach in Greece, 21 years ago, I never could have guessed that it would be the start of a fascinating journey in beads. The pretty pebbles led to jewelrymaking, silversmithing, collecting old beads, beadwork and making my own glass beads. So today, I would describe myself as a 45 year old beadworker, bead researcher and glass artist from The Hague in the Netherlands.
I am one of those people that jumps in to anything new that appeals to me. And I go all in! After a while, I find out if it will stick, or if it was just something I wanted to try. My first attempt at beadwork came from having picked up a lot of old coral colored large cylinder beads from the garden of the house I stayed at when I was doing bead research in Jablonec in the Czech Republic.
Women had been stringing the beads that were made in this historic bead town in the garden, and they would drop them every now and again. So I wanted to figure out what I could do with these old beads, and started working with needle and thread to put them together. I then quickly learnt the magic of peyote stitch, and not soon after that, the wonder of Japanese Miyuki beads.
That's a great way to start indeed, you really explored it all. How do you describe your own style?
There are two things that describe my style: the use of color gradients and combining small components. When I design a piece, I like to think of the colors almost as a painter: mixing them, using a variety of color tones and intensities to create the final object. www.floorkaspers.nl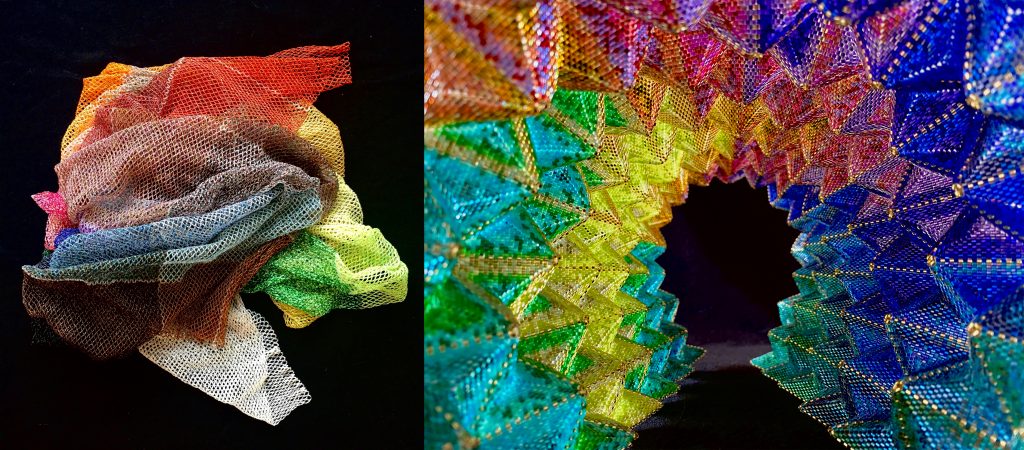 I have been very fortunate to have been able to go to the Japan Miyuki factory store, where I splurged on a huge variety of colors, both in delicas as well as in size 15 seed beads. This allows me to pick and choose from my own stash of beads, and instead of using a single green color, I can use 15 different green colors together.
Because I like to bead while I travel, I started making smaller components to later combine together into a single piece. So that has also become part of my signature style. Much of my beadwork is not jewelry, but can be considered a sculpture or an installation piece. I am inspired by some great bead artists who have taken beads from the arena of craft into autonomous art, like Liza Lou, David Chatt and Nico Williams.
What is your approach in making things? Where do you get your ideas and how do you start with them?
Many of my ideas come from travel or nature. I will take the colors that go together in for example a picture of tiny gourds on an Indian market, and try to match those with my beads. I am always looking around me for colors and textures that speak to me, and my phone is full of pictures that will probably make no sense to anyone else but me. I will then decide what technique I want to use.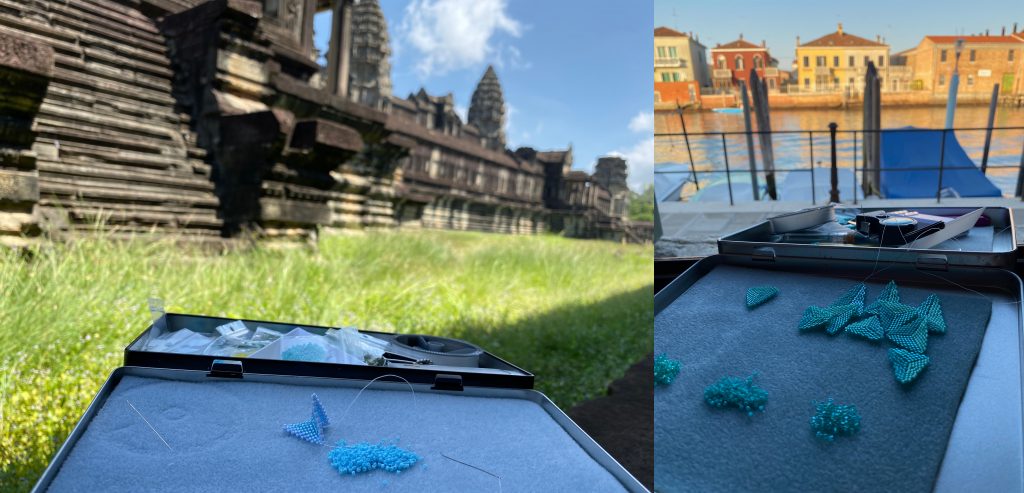 A few years ago, I did a lot of netting, like scarves or at one time I even spent a whole year making a beaded blanket made from almost a million size 15 beads. Currently, I am playing around a lot with geometric beadwork and creating more 3D pieces. Once I have decided on my colors, my technique and the size of what I want to make, I will start getting the beads together. I often mix my colors to create different batches of beads, and then I will mix those batches again. Working with mixed colors allows for a more natural feel and color transition than using a single color.
For other pieces, I start with a particular concept in mind. For example, for one year, I made a netted square every day. I would pick that day's colors based on my mood or experiences of that day. Together, they are now a large installation piece in the form of a huge wall calender.
Some of my projects are quite experimental, and I do not know of the piece will 'work' until I may already have spent months on it. I sometimes make a small prototype at the beginning, but sometimes that is not possible. So I have to admit that I for example still have the components that I spent 10 weeks on, sitting in a box somewhere. It just was not right when I finally put it together. And though I am neither a patient person or a perfectionist in my daily life, these are two qualities that beading seems to bring out……

You mentioned travelling a few times and also that you find your inspiration all around you. Being in other countries will probably inspire you a lot, each in a different way. Can you tell us about your worst (or most surprising) experience. And of course your best memory abroad?
The colors and textures that surround me when I travel are certainly an inspiration. And sometimes there are mishaps…. I can certainly say that it is not a good idea to drop your carefully sorted size 15 beads while beading on the beach. This happened to me when I was in California, and I left behind some very colorful sand that would probably amaze the people who would find it later. Visiting a seed bead factory in India also made me see the more negative side of bead production. Piles of glass shards that people were scooping up, visible glass dust floating around in the air: not a good place for the workers.
One of my most enjoyable experiences when it comes to beading and travel has been the Borneo International Bead Conference. There is a very strong appreciation of beads and beadwork in Borneo and being able to sit down with women and bead together was inspirational. We did not speak each other's language, but I was able to teach them certain techniques, and they were able to teach me. At one point, I kept making the same mistake, when I was in a beadwork class by two local women. So the elderly woman, who spoke not a word of English, patiently but firmly took my hands and made me do the stitch together with her. These are the type of memories that show me how much beadwork connects us, through cultures and generations.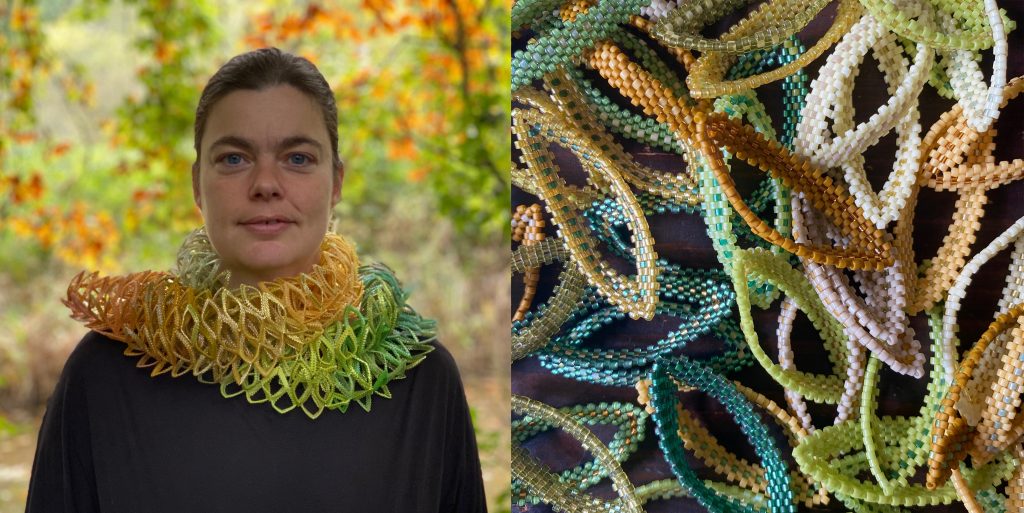 That are great momories you speak of, not only for you, but also for them on the other side of the world. To get back to here and now, what is your last biggest project? Can you tell more about this? And are you working on something currently?
As I mentioned, when I find something new, I like to jump all in. Late 2020, I jumped into pottery. I have never really taken any typical weekly art of craft classes, because I travel so much. But not being able to travel due to Covid made me look into taking a class, and I chose a pottery class. I was immediately hooked on the process of throwing a lump of clay and then through the force of the wheel and my hands make it into an object. When the class had to stop in the second lockdown, I got a tiny pottery wheel and continued at home. Still in the early stages of finding my way round this new material, but ofcourse I did already have to look at a way to combine it with beads. So these were my works in progress then. Who knows where this new journey will take me……

And currently I am working on my 2021 Battle piece. It is inspired by the mosaic floors in Venice, and the aim is to create a 3D mosaic out of beads. This summer I was fortunate to travel to Venice twice, soaking up the glass and bead clture. However, as I tend to do, I have set myself quite a challenge in the timeframe allowed for this project. So it will be down to the wire: more than 500 triangles in 45 different colors, all need to be made into pyramids and then connected. https://www.facebook.com/floor.kaspers/
Good luck with finishing you big project, it will definitely be a great one again!
Floor, thank you very much for your stories! It is great to learn more about you and your ideas and methods. Safe to say that you are definitely unique in a lot of things. We will continue following you and can't wait to see your future projects. Good luck with all of them!