Akke lives in the Netherlands, but sells her patterns worldwide! We know her from her beautiful designs, which are unique in their kind. Last week she celebrated her 15000th sold pattern! For her it's definitely Less is More. She makes her designs straight forward, no frills to find and great choice of colors! She likes straight lines and geometric shapes and in this blog you can read all about her designs, her collaborations and her approach.
Can you give us a little introduction about yourself? Who are you, where are you from and what is your history?
My name is Akke Jonkhof and I live with my family in a small town in the Eastern part of the Netherlands. I have a part-time job in healthcare, supporting young adults with a mild disability and/or autism. For me working there is the perfect combination with my beadwork
Like many beaders I started with large beads and then switched to mainly seed beads. I joined online beading groups and was amazed that many of them used patterns for making their jewelery. This was strange for me, because once I had mastered a technique, I would never choose to follow a pattern. My approach is to use the technique to make something totally new and follow my own inspiration.
After a while, people started asking me for instructions on how to make what I had made. This was the reason I started making patterns. In the beginning this definitely wasn't easy! I had to teach myself how to create the drawings and steps on the computer step by step.
I think you can describe my style as sleek and simple without too many frills. I also like symmetry and geometric shapes, where my motto is often: less is more. I also try to be original and do it slightly different than others, but I think that is something that every designer tries.

What is most important to you in your patterns and where do you focus on the most?
Of course a pattern always starts with a first design. When I make something I either have a vague idea in my head or I just start experimenting with a number of beads that look good together. This is a process of trying out a lot of things again and again.
It is a long process of starting, redoing and changing it several times. You keep taking it apart to start all over with other beads, other colors, slightly different steps. If something went well and I get a lot of responses to it, I will make a pattern of it. However, believe me when I say that I have also made enough things that I never made a pattern for.
When I make a pattern from a design I always start with the drawings. I draw this step by step. When this is done, I create the text with all the steps. I do both, as some people almost only follow the images, and others mainly use the text as an explanation. I don't believe that one or the other is more important in my patterns, as one supports the other. Everybody can use the pattern however they like it best.

What has changed over the years in your pattern-making?
It took me a long time to get the hang of making the step by step drawings. I use the drawing program Inkscape to make the images and I taught myself how to use that. If I compare the first patterns with the last, there is a indeed big difference. In time I improved the drawings, which became easier to do after working on them every time. They look better now, which also makes them better to understand.
Nowadays all my patterns are in English. For me the Dutch market is too small to make patterns in Dutch and most Dutch beaders can understand enough English to be able to understand the pattern especially because all steps are supported with drawings.
What great things did you do in the past? What are you proud of?
When the first special shapes of beads came on the market, mainly from the Czech Republic, I enthusiastically devoted myself to them. If possible, I wanted to be one of the first to make a design of every shape. At that time my shop started running on Etsy and I was asked by a bead wholesaler to make examples with their beads.
Also several international bead magazines asked me if I wanted to make something for the magazine. The highlight for me was the question from Beadwork, because they wanted me to be one of the 'Designers of the Year 'for a year. So in 2016 and 2017 there was something of mine in every issue.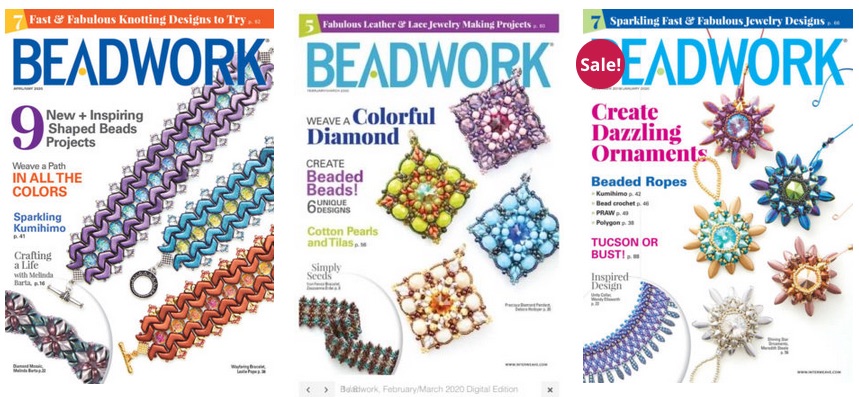 You indicated that you were Beadwork's "Designer of the Year" for a year. How often did you need to have something ready for publication? Did you struggle to always have something ready?
As Designer of the year, I had to submit a total of 6 projects and if something was approved they also wanted that design in 2 or 3 different color combinations. When they were finished I sent them to America for the photos. Unfortunately, the 2nd delivery of what I had sent got lost in the post, so it had to be made and sent again.
When they asked me if I was interested in becoming Designer of the Year, I sent pictures of 2 or 3 projects that I had just finished or was almost finished and they were all accepted, so I was already halfway through what I had to hand in. The 3 others I did later, there was time pressure behind it because they had to receive it more than half a year before publication. I did not always experienced this as pleasant and it was not always good for my inspiration. I don't think my best designs are in that magazine either.
In addition to making the designs and making the extra color combinations, patterns had to be made which they then adapted to their house style, after which they had to be checked by me. Finally, they wanted you to indicate for each design where all the needed parts (beads, etc.) could be purchased. This was difficult for me, as it had to be stores in America. Although I thought it was an honor to be designer of the year, it also cost a lot of work.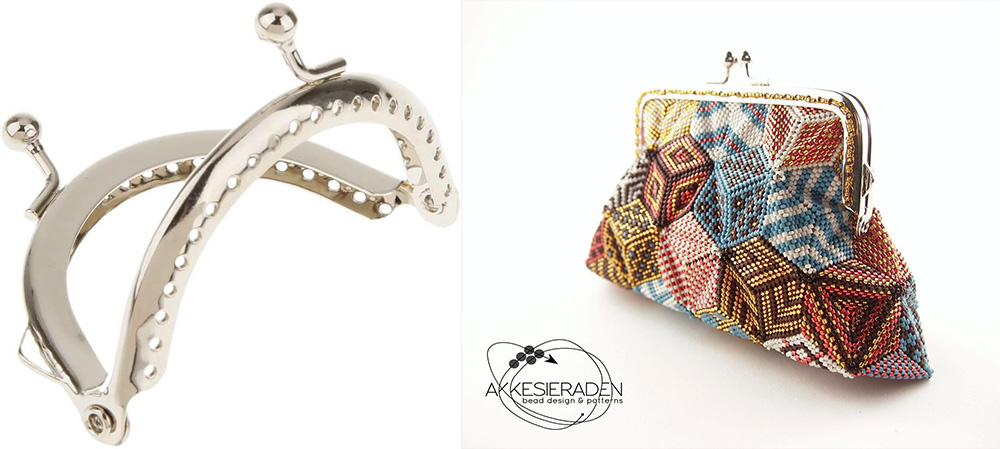 It indeed sound like a lot of work, but also very great that you got this opportunity, congratulations! When this ended again this means that you could focus on your own designs again. Can you tell us something about the last tutorials you made?
After a while, more and more new shapes came onto the market that often resembled what was already there and because I had already used so many shapes, my inspiration ran out a bit in 2018. Because I didn't feel like making anything with the Czech beads anymore, I started to use other beads, to see what would happen. And luckely I discovered the delica beads. I had never done much with this shape and quickly I discovered the versatility of the peyote stitch. When I also found a purse bracket that I had once bought at a flea market while tidying up, I had my bead inspiration back: I started making Peyote purses, but also discovered making other peyote objects.
The last 2 years I have mainly been busy making wallets. First with a clasp closure, they are called Kiss clasp and the last pair were with a zipper. You used to see a lot of bead wallets like this, but they were actually all knitted or crocheted with beads. I hadn't seen them yet strung in peyote and that's what I wanted to create. And when I continued exploring, my last patterns are of small boxes with a folded lid, a kind of origami with beads. They look complicated but are not that difficult to make and very decorative.
And you sell them on Etsy, right? How do you like this, does it work? And what would you like to tell others considering it?
Etsy works very well for me, the costs to put something in your store are low and you only pay the extra costs when you sell something, so it doesn't cost a lot of money to start a shop on Etsy. You only get the biggest costs when you sell something and of course, you have to include these costs in the prices of what you want to sell on Etsy.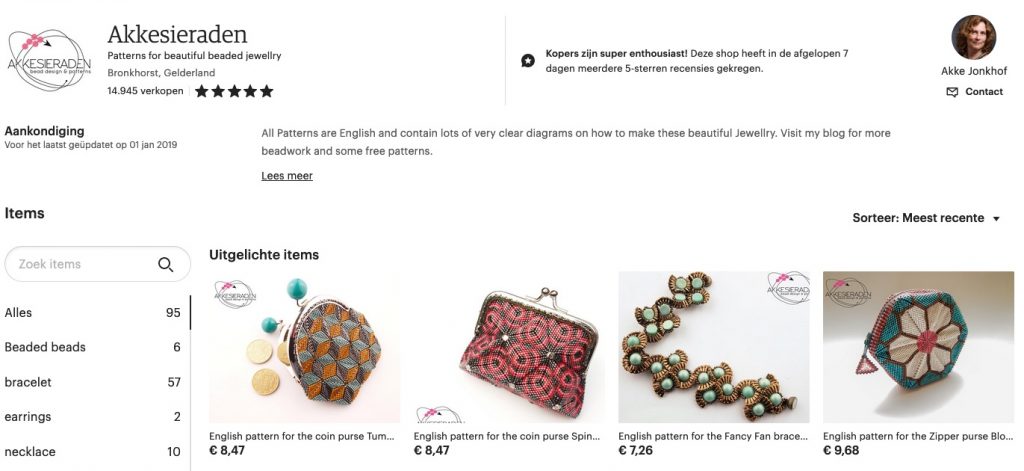 There are many designers selling patterns on Etsy, therefore you also get a lot of customers who are looking for patterns on Etsy. These are the casual customers that you would otherwise miss.
In addition, the convenience of Etsy is that they arrange a lot for you, such as paying the taxes that you have to pay on direct download patterns. You have to pay this tax in the country where the customer lives. Because I sell worldwide I would have to arrange and pay this tax in many countries, luckily Etsy is doing that for me. I think Etsy is ideal for selling patterns, I hear that it is very difficult to sell ready-made jewelry there, but I never did that myself.
Akke, thank you very much for this! It is great to read what you already did for the beading world. We wish you a lot of new sales in your patterns, a lot of inspiration for a lot of new ones! Good luck with everything!
And if you readers have other questions, feel free to post them!